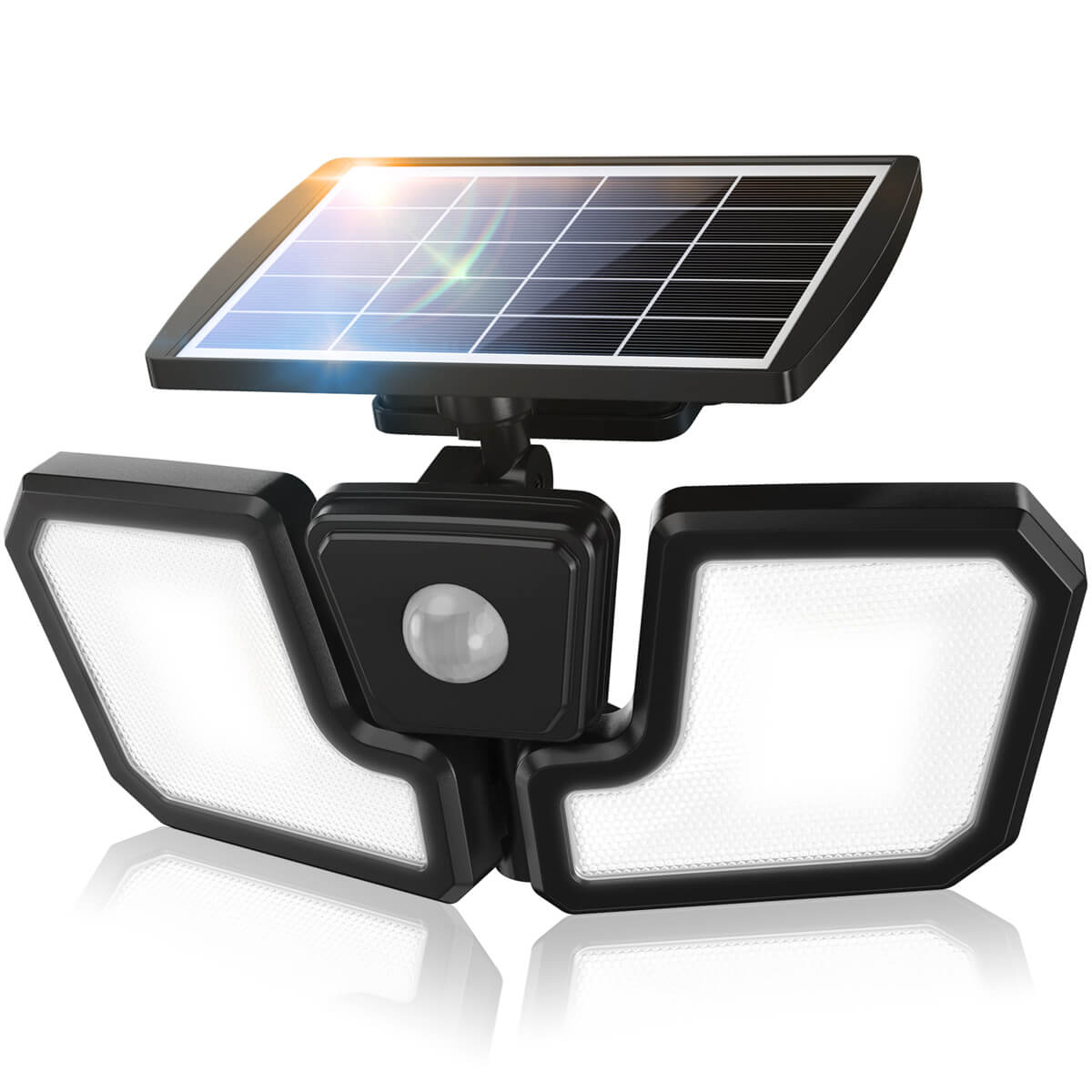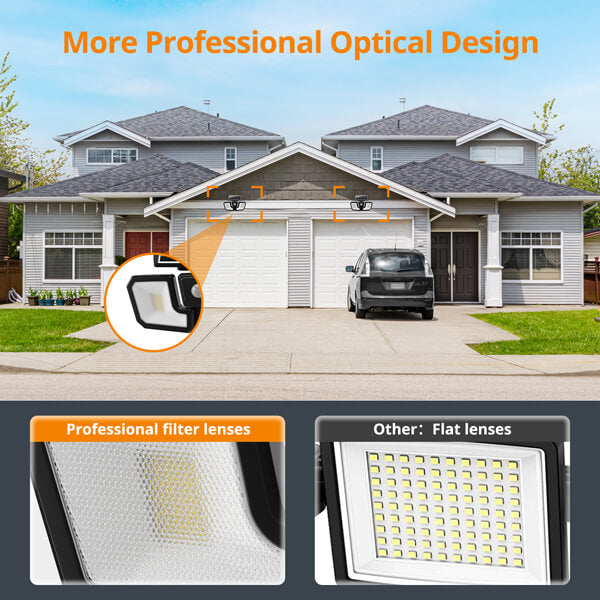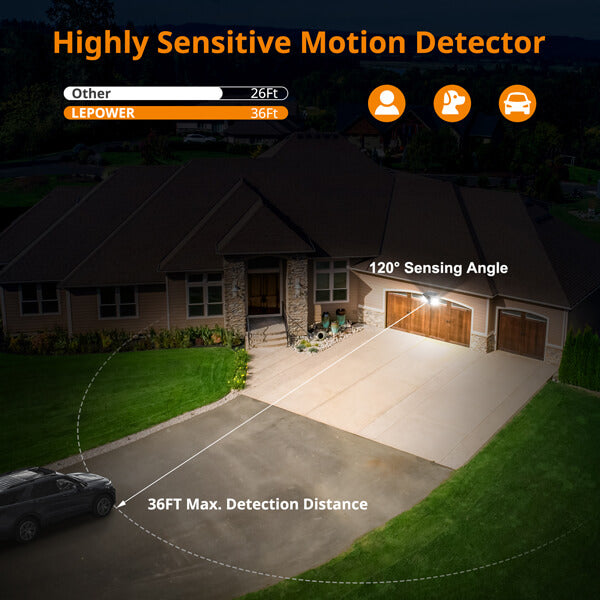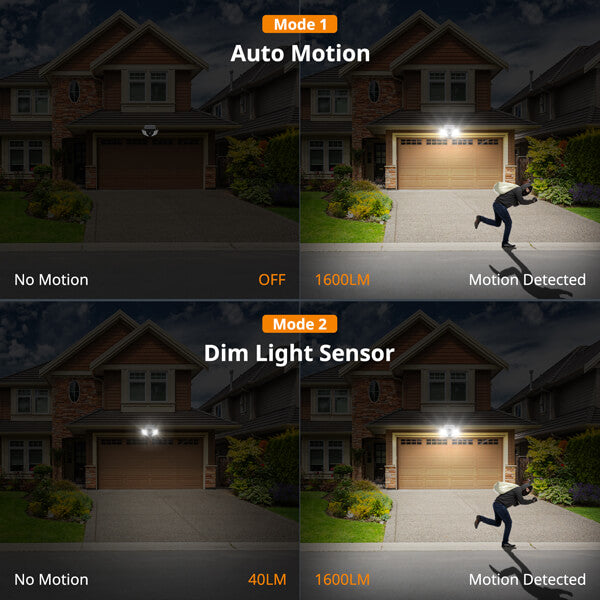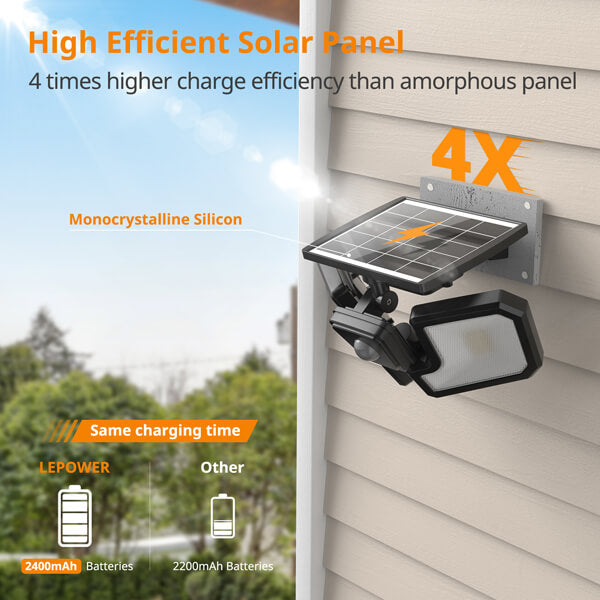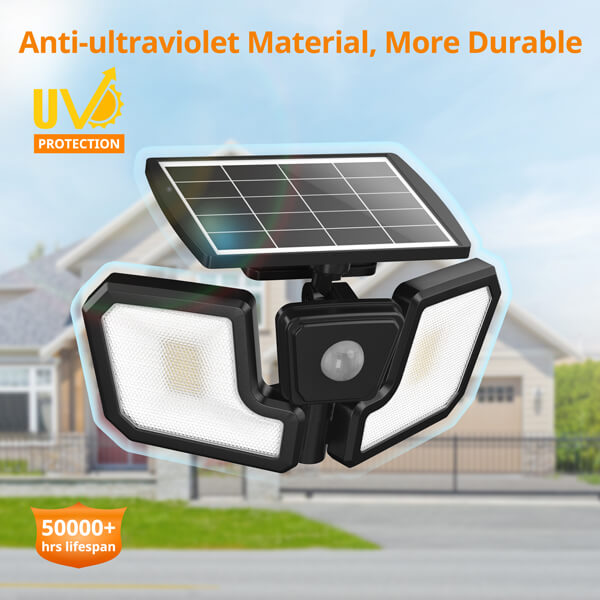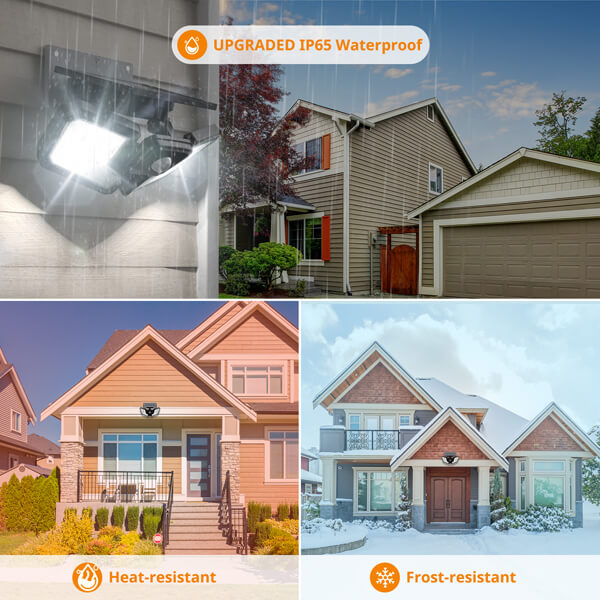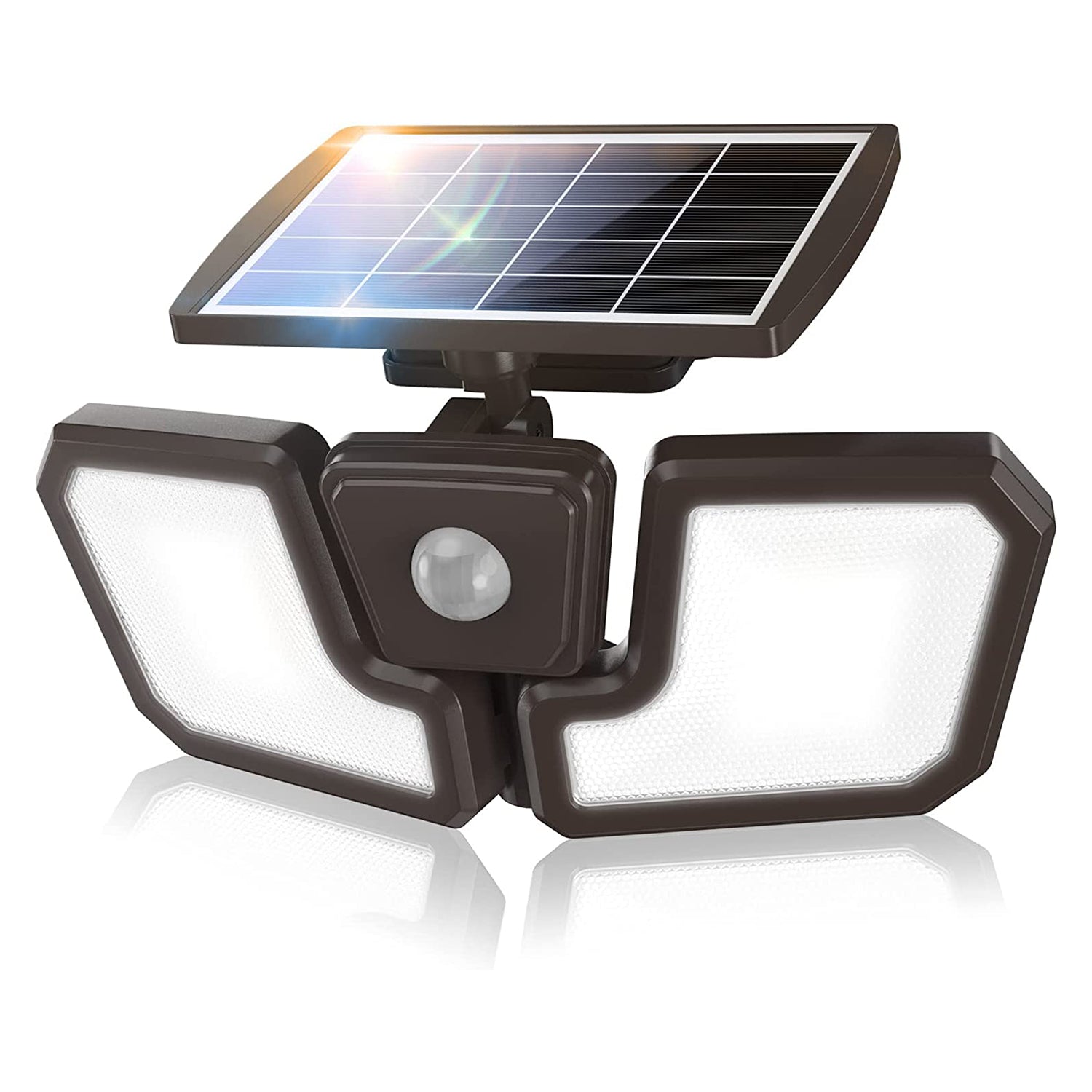 Wireless Motion Sensor Solar Flood Lights Outdoor 1600lm
SKU: B0B3891JP5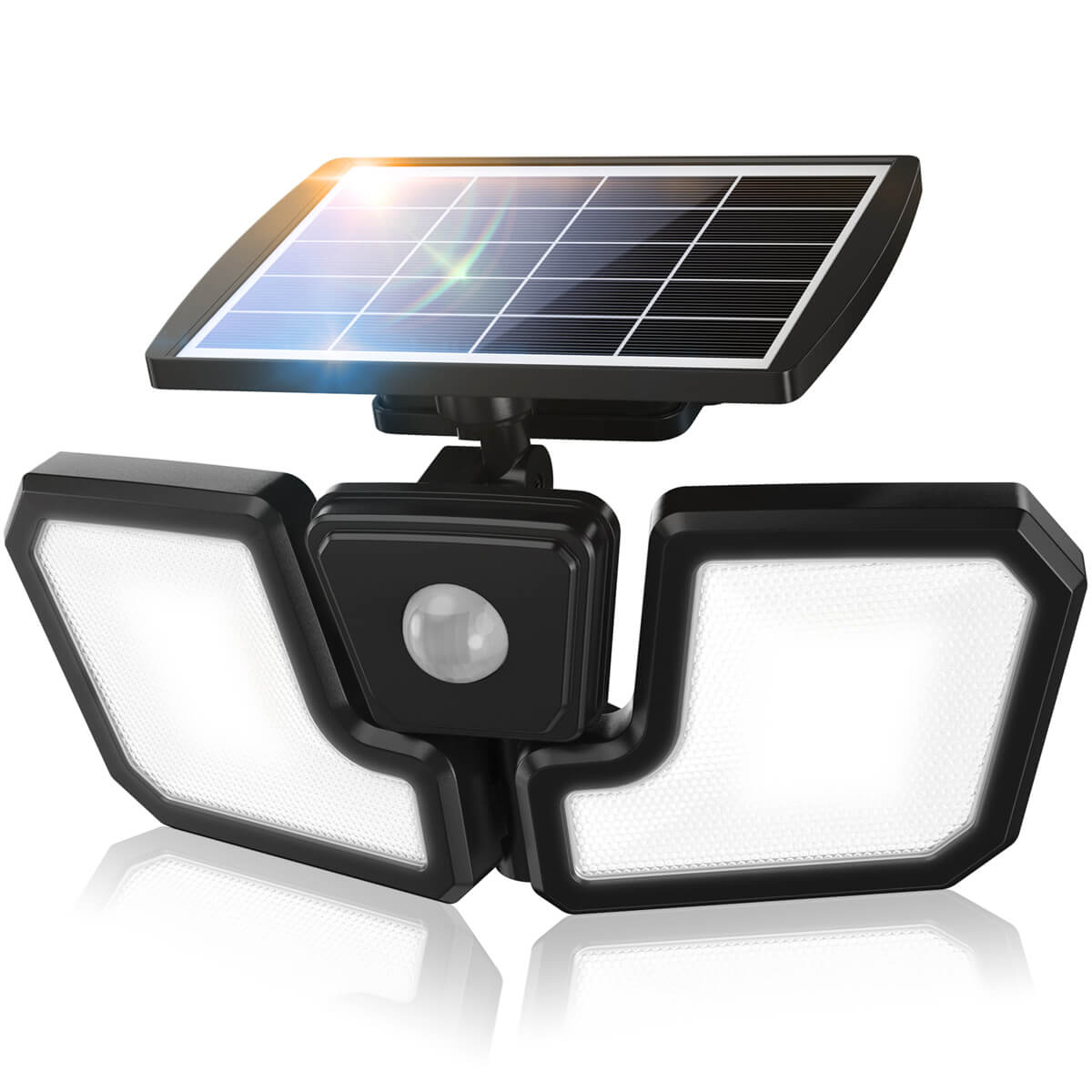 Solar Outdoor Light 1600LM integrated with monocrystalline silicon solar panel, 4 times higher charge efficiency. Advanced PIR motion sensor can sensitively detect movement and turn on auto.
The Solar Security Light integrated with monocrystalline silicon solar panel, it has up to 22% photovoltaic conversion rate and 4 times higher charge speed.
LEPOWER Solar Lights Outdoor with 2 Operational Modes
Dim Light: stay on 40lm brightness at first, turn to 100% brightness when detecting motion.
Auto mode: turn on automatically when people approach, about 20s-60s it turns off when people leave.
Tips:
1. It's important to install the solar lights outdoor motion sensor away from the shade caused by trees, buildings, etc for better energy absorbing.
2. The angle of the solar panel can be adjusted freely so that it is directly exposed to sunlight.
3. Only wall mounting accessories are provided.
4. The flood lights outdoor motion sensor will not always be on a strong light. Only when an object enters the detection range will it emit strong light.
Surprised me
Wasn't expecting much but let me tell you.. super bright and awesome motion detection. Very happy with this purchase
So far really good!
I had my reservations since it wasn't the expensive ones, but it really does the job for cheap! I just ordered another one. 👍
Its bright!
Solar light. Lightweight and easy to install. No assembly required. Ready to go out of the box. Nice and bright.
Lights up my world!
I ordered 1, then another. I'm now ordering a third. They charge and work all night on low setting. When motion is detected it lights up my world. The whole yard in its beam direction. I need another for my barbecue and hammock covering carport area. Here's a tip: Make sure at night cars when passing by set off the high beam bright mode. It's very bright. Here's another tip I learned. I cut gray PVC piple 1 meter (3 feet or so) and pound it down into soft, wet soil after it rains. I then use 2 black zip ties and strap on the flood light to the top of the PVC pipe. Much better area coverage.
Great for Walkways and Paths
This replaced a walkway light that had to be plugged in, and because its high up changing the bulb was. a hassle. It provides good lighting on our walkway going from the driveway to the front door. We like the longer lighting time which gives us enough time to unload the car and walk to the door in continuous light.