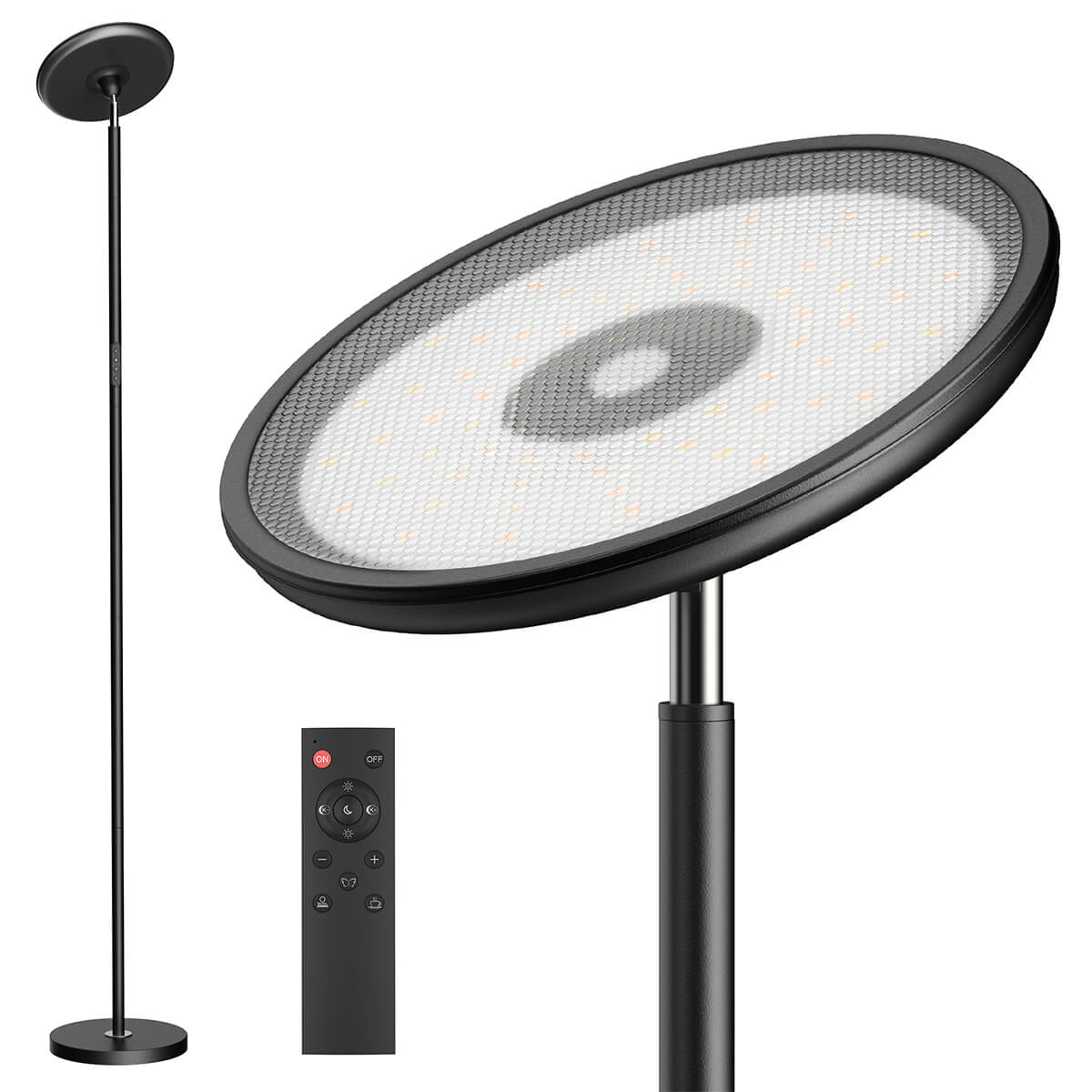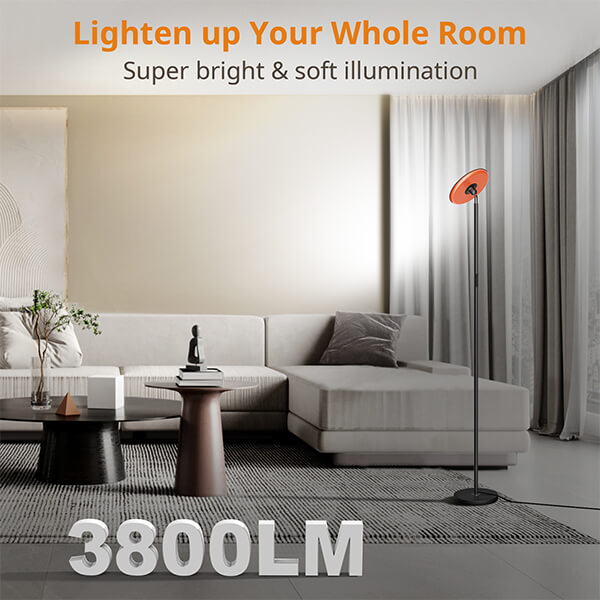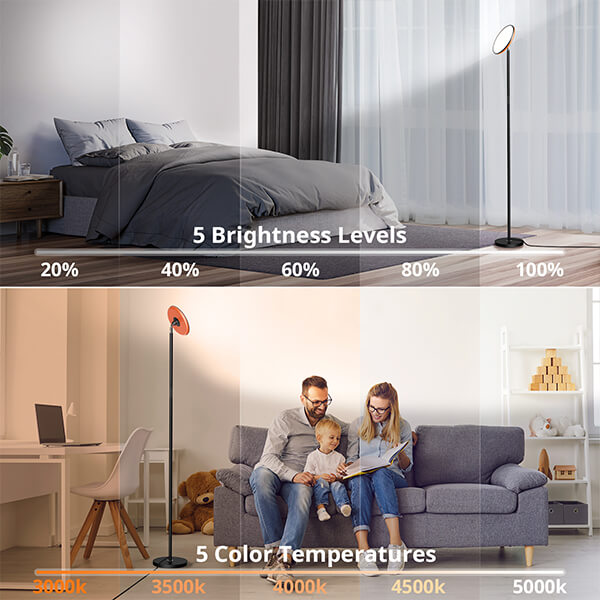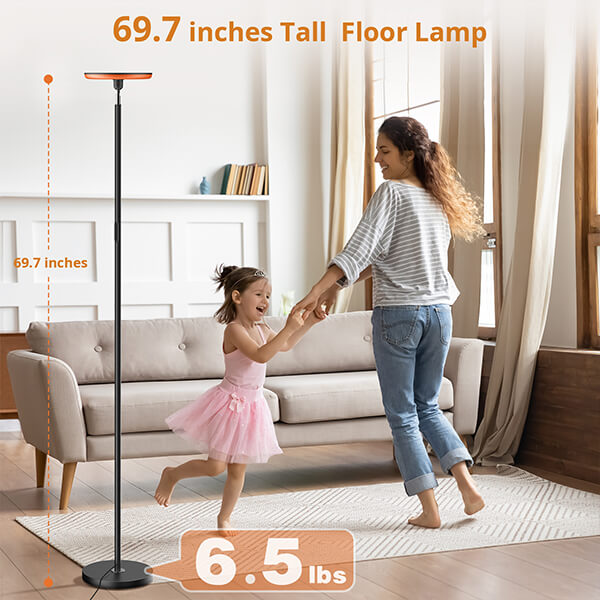 Torchiere LED Floor Lamp with Remote Control 35W 3500LM
SKU: B096VJJGR5
The LEPOWER LED torchiere floor lamp features 3800lm super brightness, classic appearance design. Sensitive touch button and remote control allow you use it however you want. Shop from Lepower for better merchandise & service.
3500LM Brightness
Powered by high quality lamp beads and through a professional optical lens, the LED floor lamp casts 3500LM bright light that exceeds 40% brightness of its peers. Integrated LED no need to replace any bulb and save more than 80% electricity bills compared with traditional halogen bulb 250W.
Adjustable Lamp Disc Design
The torchiere floor lamp is a classic model, suiting for a wide range of decor styles for your living room, bedroom, and office. The lamp disc can rotate 360°circularly, and 90° down.
Assembly is a Breeze
Putting the modern floor lamp together is quite easy.No tool is needed, you can assemble poles, base, and lamp head by yourself in just 5 minutes.
Touch Control
This LED floor lamp can adjust by your personal touch. Just let your finger gently press and it will adjust accordingly. The touch sensor is very responsive.
Remote Control
The remote is a dream and it has nice attractive very minimal appearance. And it works well to adjust the color temperature and brightness, as well as on/off.
Adjustable Brightness & Colors
The modern LED floor lamp has 5 brightness levels & 5 color temperatures. The torchiere floor lamps is well made with metal material, and have good heat dissipation, the lifespan can last up to 22.8 years if you use the living room lamps for 3 hours per day.

Tall & Weighted Base
The room lamp stands 69.7 inches tall, protecting your eyes from direct light. The weighted base and sturdy design helps prevent it from tipping.

Memory Function
The floor lamp has a memory function that remembers your last brightness and color temperature when you turn the light back on.

Package Includes:
LED Sky Floor Lamp x 1
Remote Controller x 1
Power Cord with Adapter x 1
AAA battery x 2
User Manual x 1
Note:
1. The floor lamp can always remember previous settings whether you keep the plug in or out of the outlet.
2. Our floor lamps support the use of timers at the same time.
3. Our floor lamps are all paired one-to-one, but you can change the settings to one-to-many by re-matching.
4. Integrated LEDs can not be replaced.
Amazing
These lights can be super bright and have different setting for warmth or cool preferences. There is also night setting which is great for night time chilling/TV watching. I was really impressed. Most floor lamps provide mediocre light, but these brighten the whole room and I have a pretty large living room. I have two set up. I would definitely recommend and buy again.
Torchiere Floor Lamp with Remote Control 38W 3800LM
Torchiere Floor Lamp w/remote
This light gives out the best lighting as it is advertised to do. I am thoroughly pleased with this lamp. Great price and a great lamp. We love it.
Beautiful lamp
I just recieved my lamp and it is gorgeous!!
Very well made and super easy to put together. I love that it has a remote so I can adjust just how much light I want. Its fabulous!!