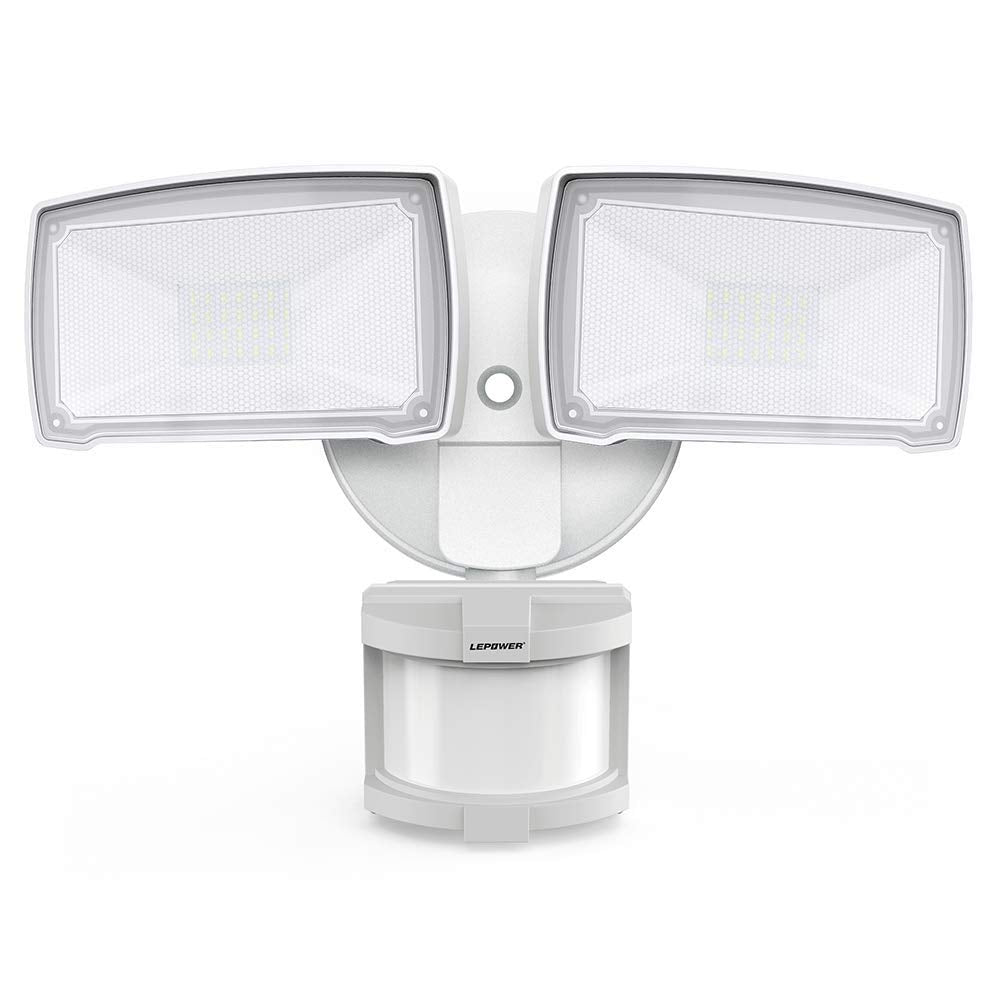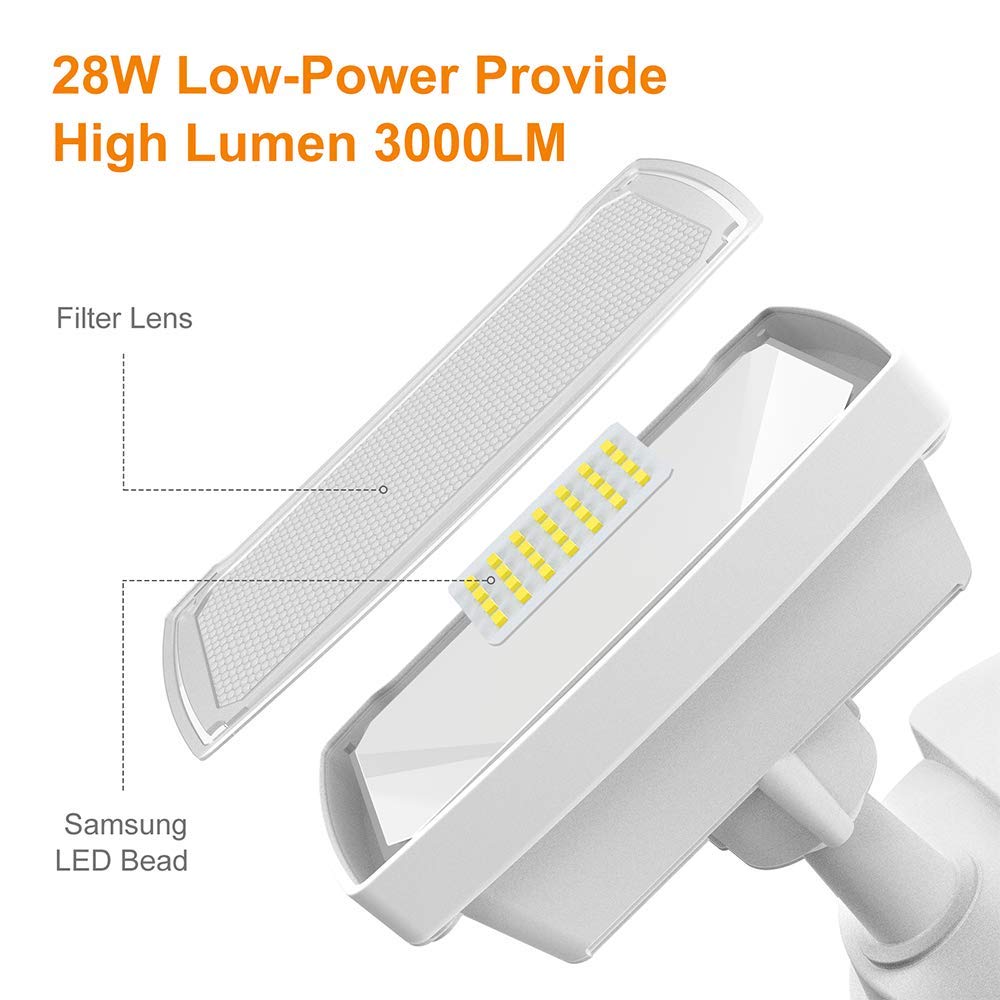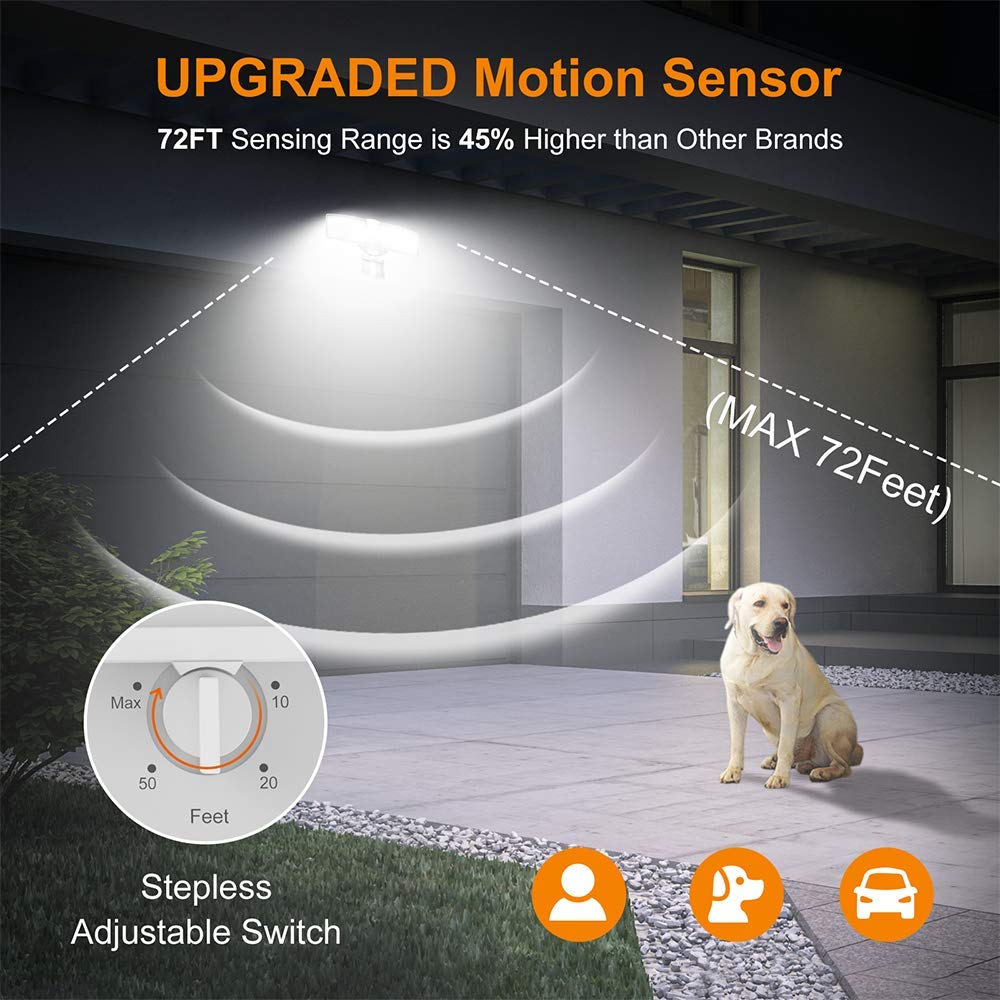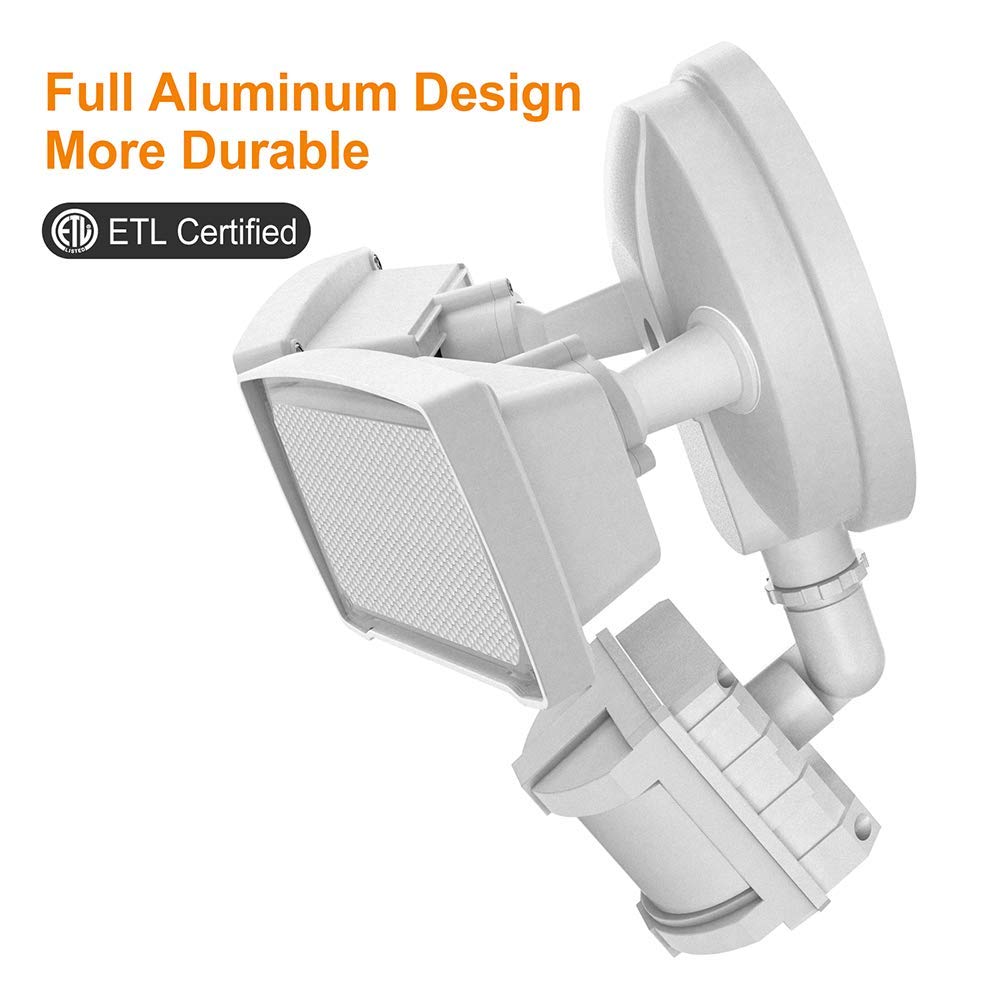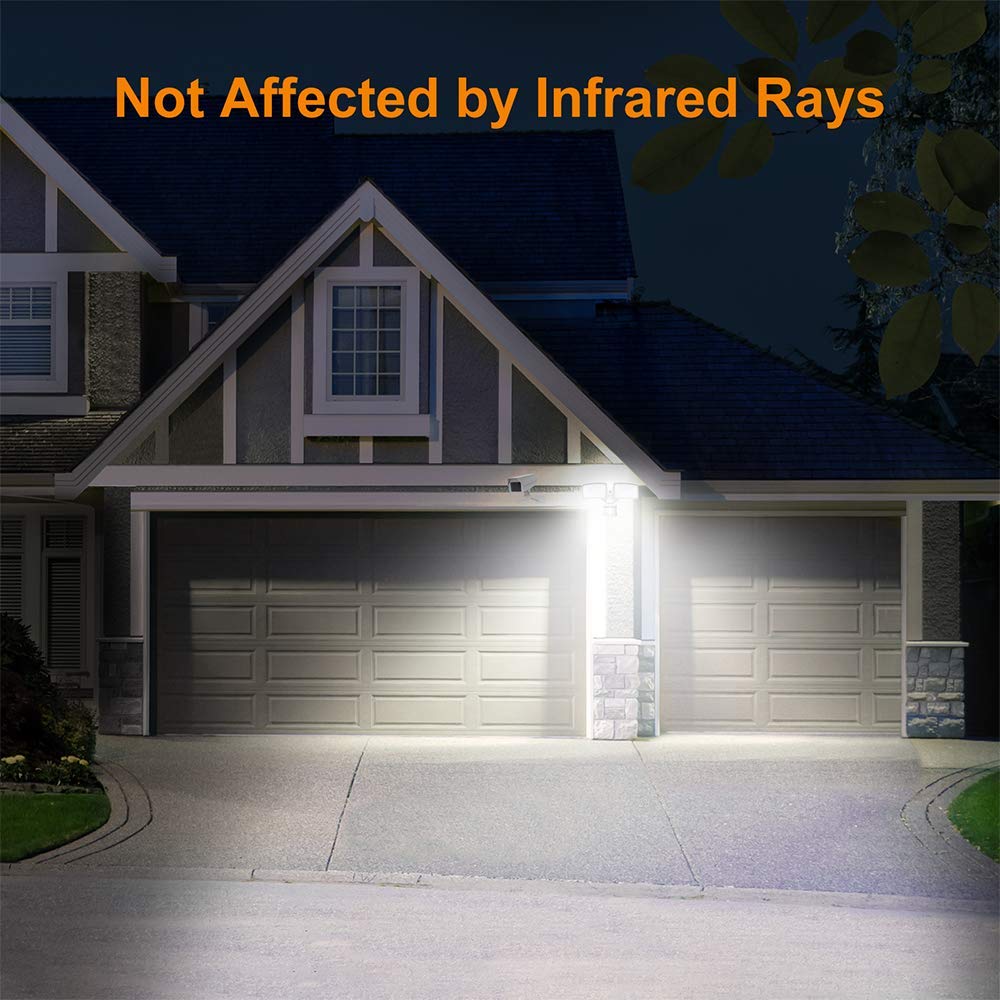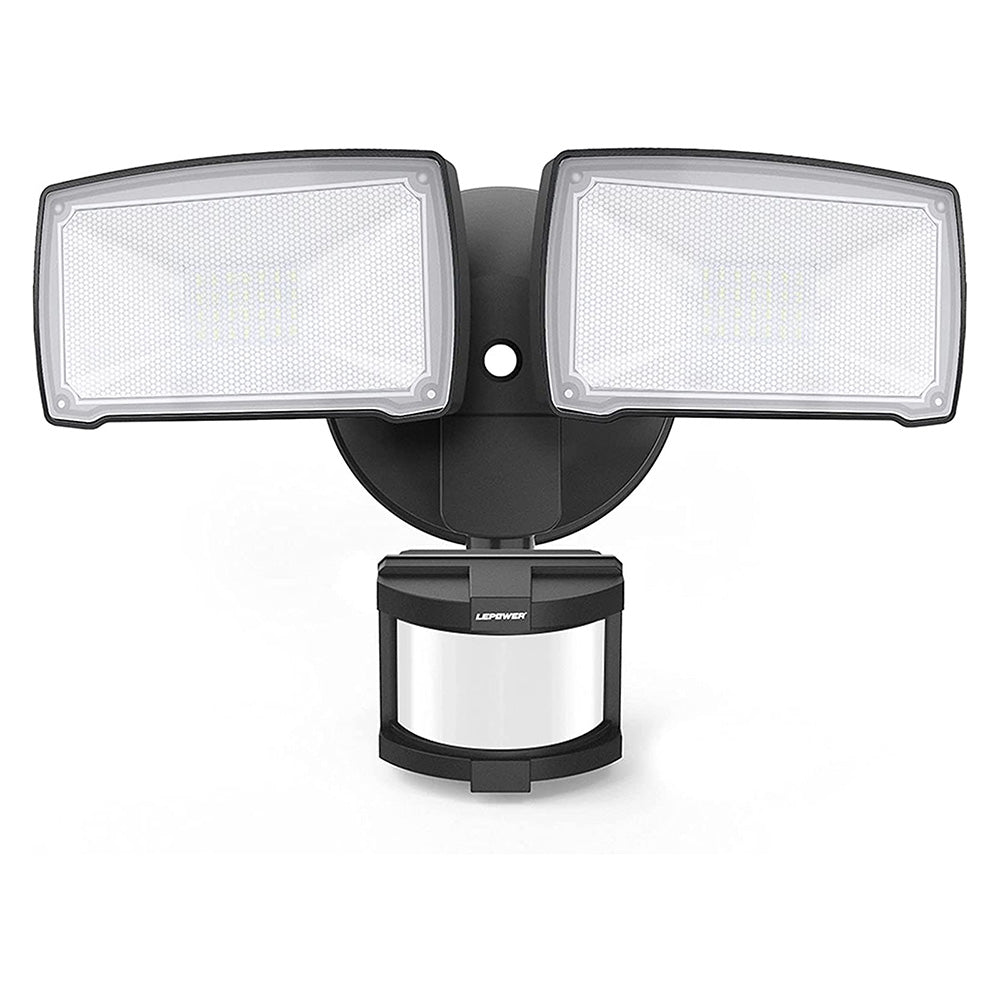 28W Motion Detector Security Lights 2 Adjustable Heads 3000LM
SKU: B07XK6ZRHZ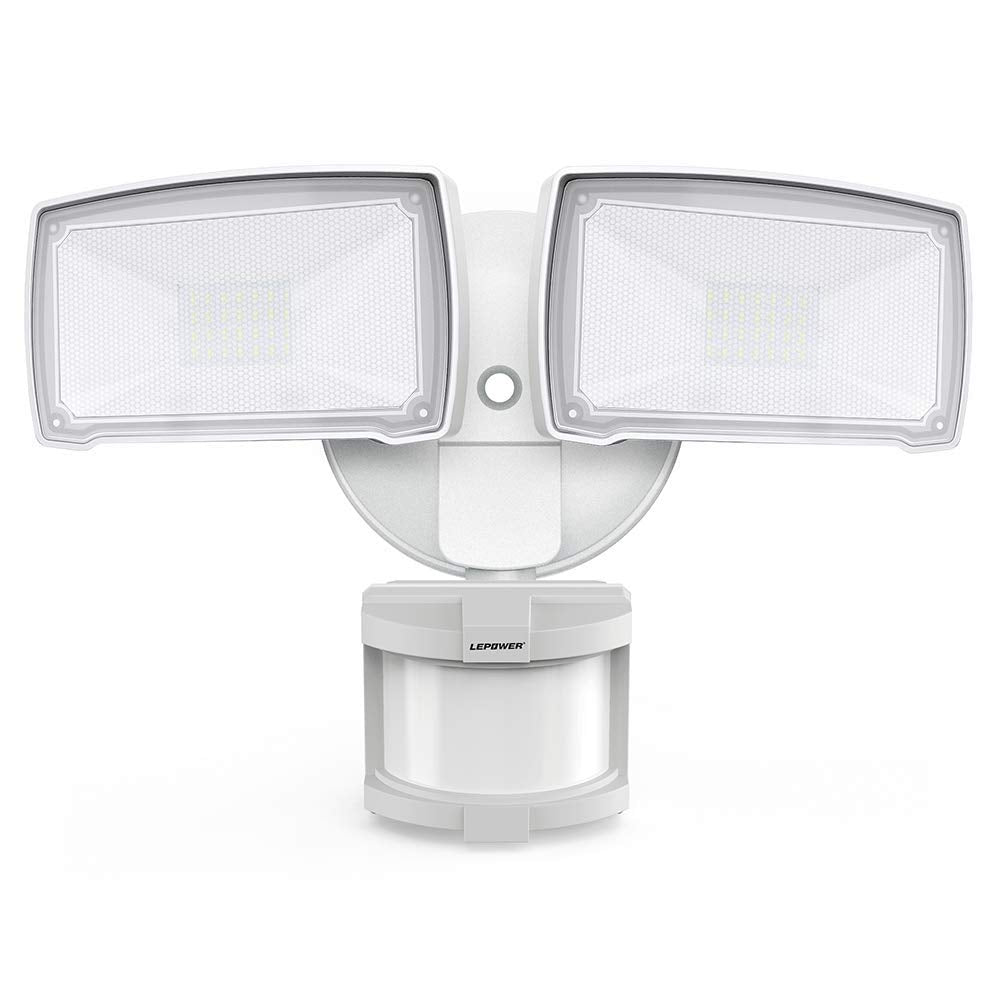 LEPOWER LED Motion Sensor Floodlight is very easy to control the length of lighting time and the distance of the sensor detects movement. The LED floodlight is very bright and can produce up to 3000 lumens at low power of 28W.
Adjustable Motion Detection
LEPOWER security motion light can be triggered by the moving human, cars, or animals up to 72 feet sensing range at 180° detection angle; ETL certificated, it brings extra safety to your home.
Precisely Control Lighting Range
Easy & flexible to adjust the 2 led lighting heads & motion sensor heads to a different angle as your requirement, precisely control the lighting range to avoid disturbing neighbors.
Longer Lighting Time
When the security lights motion outdoor is triggered, the lighting time is 10s-10mins. The switch of sensitivity and time is step-less, which means that you can customize the sensing range from 0-72 feet and lighting time from 0-10 minutes.
Excellent Heat Dissipation
LEPOWER outdoor motion security light can be easily installed for wall mounting by following a few simple wiring steps.
IP65 Waterproof for Outdoor Using
This LED motion floodlight has IP65 weatherproof, with no fear of rainy or snowy days. The light is perfect as an outdoor security light for the safety of your family. Highly recommend using it for the porch, back yard, front door, garage, deck, walkway, step, etc.
2-Way Installation
This motion sensor security light can be wall-mounted or soffit-mounted with just a few wiring steps.
Specifications
Wattage: 28W
Lumens: 3000LM(whole light fixture)
Color Temperature: 5500K-6000K
Sensing Angle: 180°
Detection Distance: 0-72 feet(adjustable)
Lighting Time: 0-10mins (adjustable)
Lifespan: 50,000 Hours+
Certification: FCC & ETL Listed
Voltage: AC 120V (110V-130V)
Material: Aluminum(except motion sensor head)
Tips:
Opening cable:
Black - Live /Hot Cable
White - Neutral Cable
Yellow & Green - Ground Cable
Recommended installation height: 7.2 feet -14.8 feet
The operating voltage of the security light is 120V (110V-130V). If the incorrect voltage is used, internal parts may be damaged, which may cause security risks.
Please make sure all wires are attached to the junction box correctly when you're installing it.
It is recommended for mounting on wall.
28W Motion Detector Security Lights 2 Adjustable Heads 3000LM
Light Unit high quality
I'm very satisfied with this product high quality well made not like those from Home Shopping Centers...I well be ordering other light units from LEPOWER....Thank You
One Awesome Product
Great light spread, easy assemble and great look.
Seems to be doing a good job. Just having some issues with distance when the light come on. Look To be of good quality.
Wish the side beams would extend out farther. Over all good.