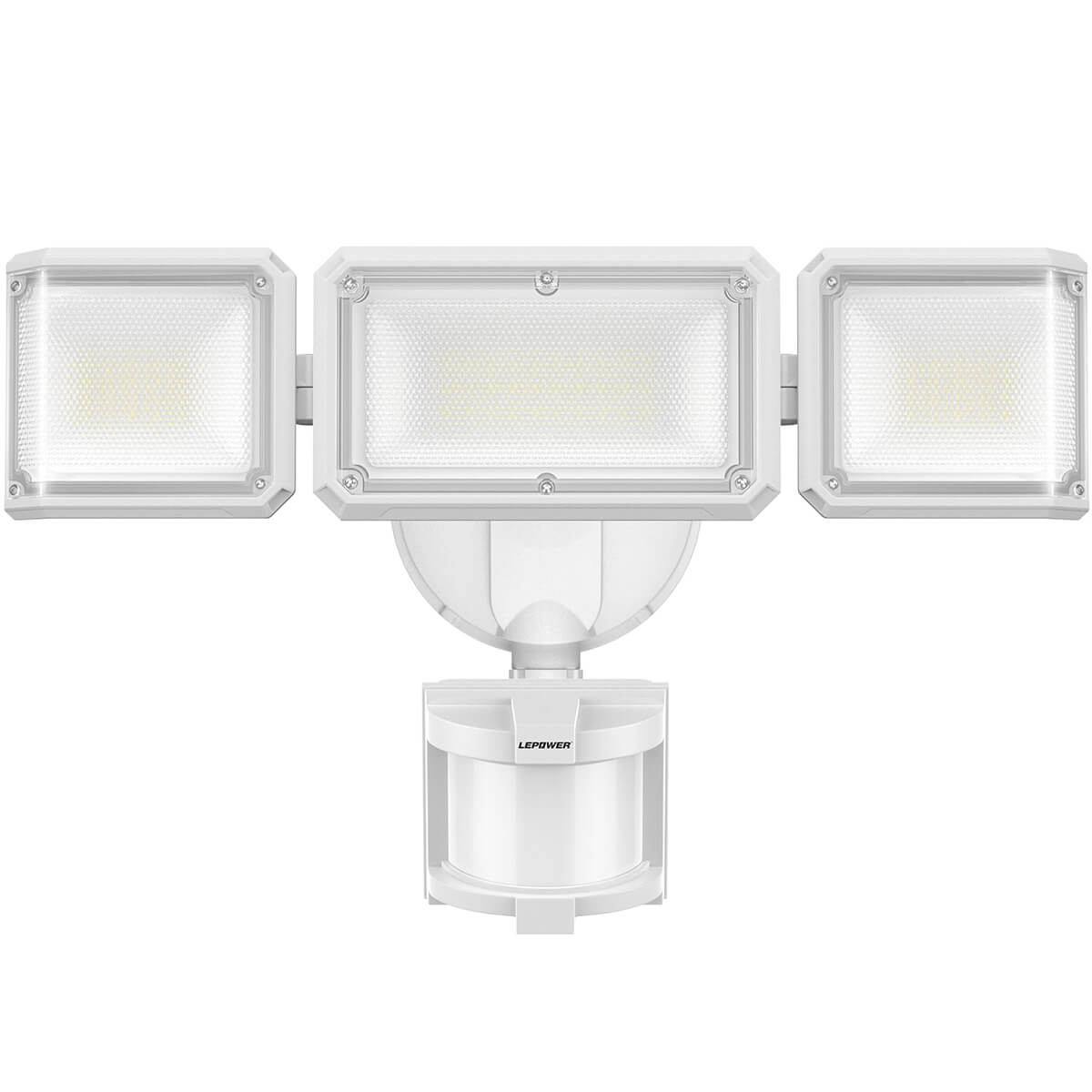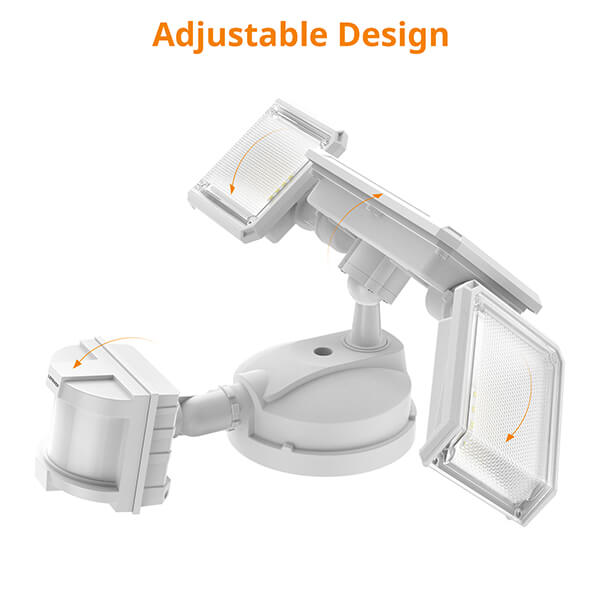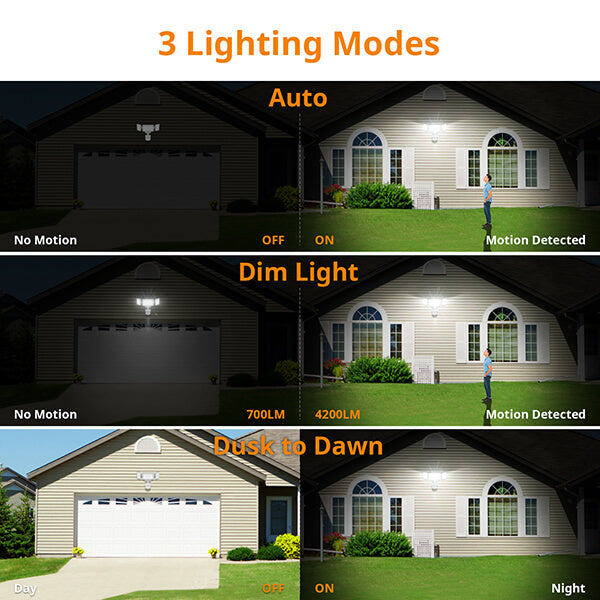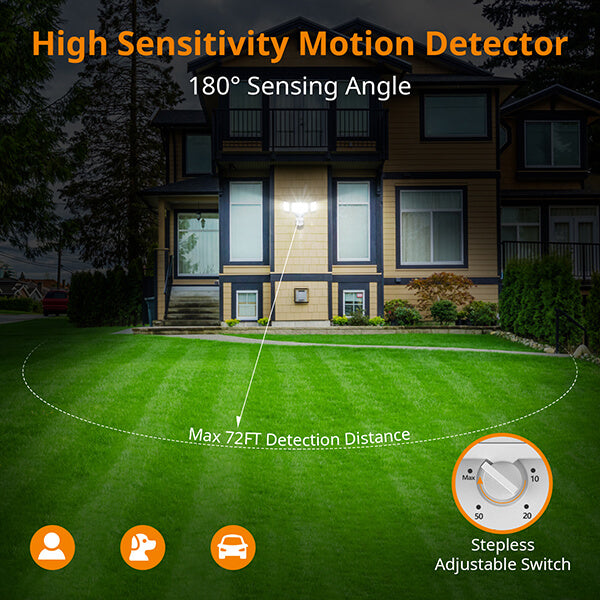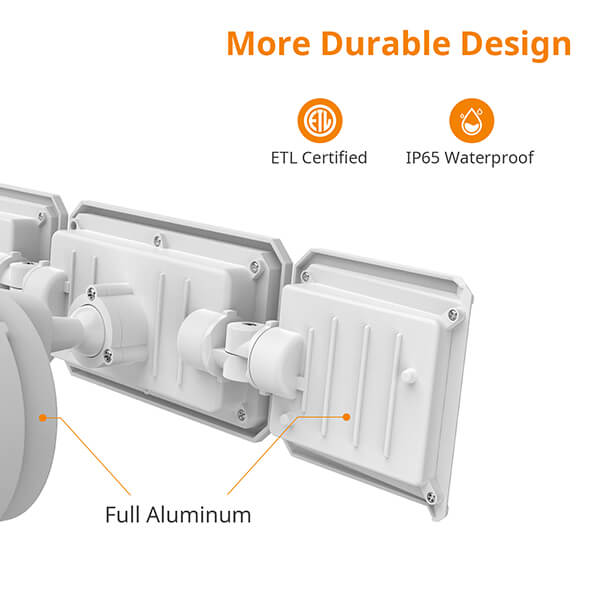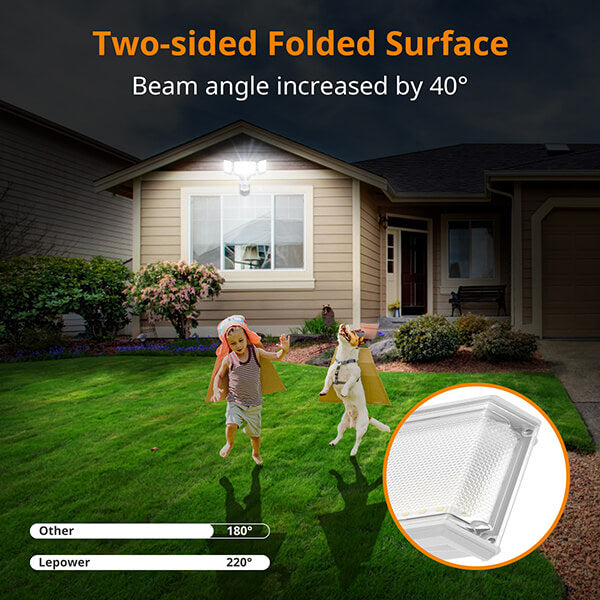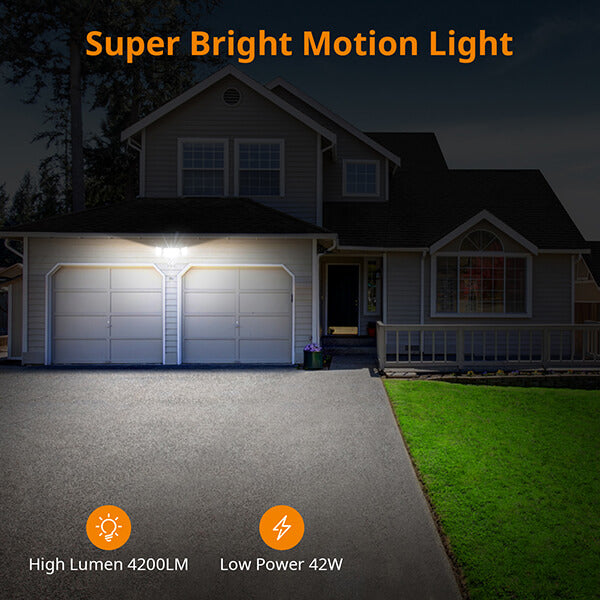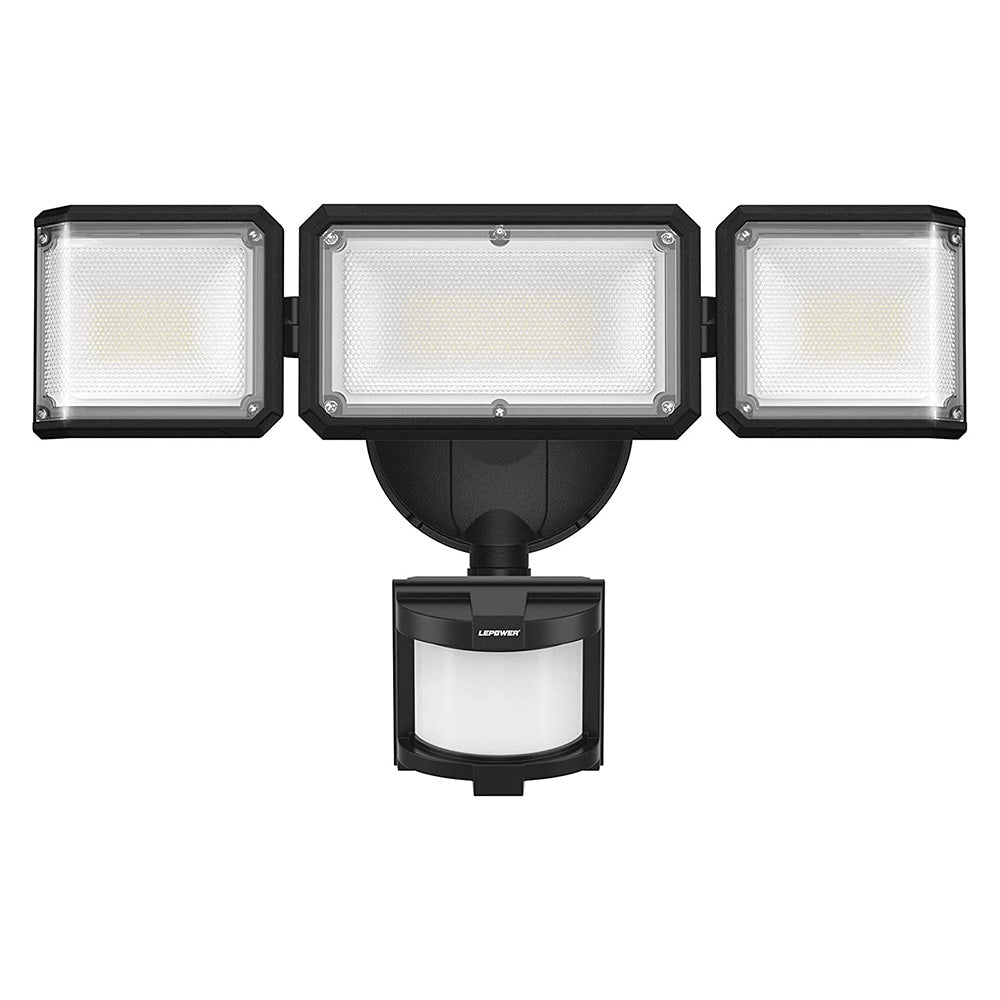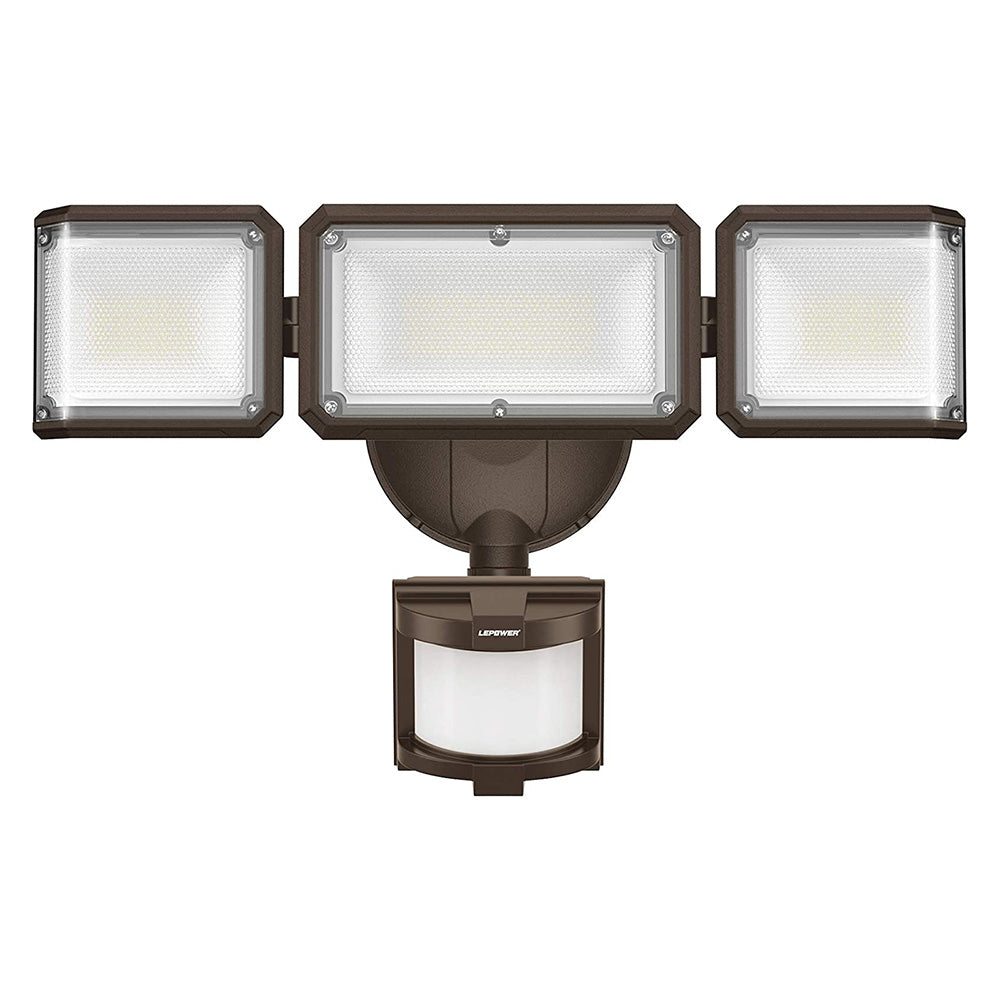 Dusk To Dawn Flood Light with Motion Sensor & 3 Lighting Heads 42W 4200LM
SKU: B08TBSZ9Q2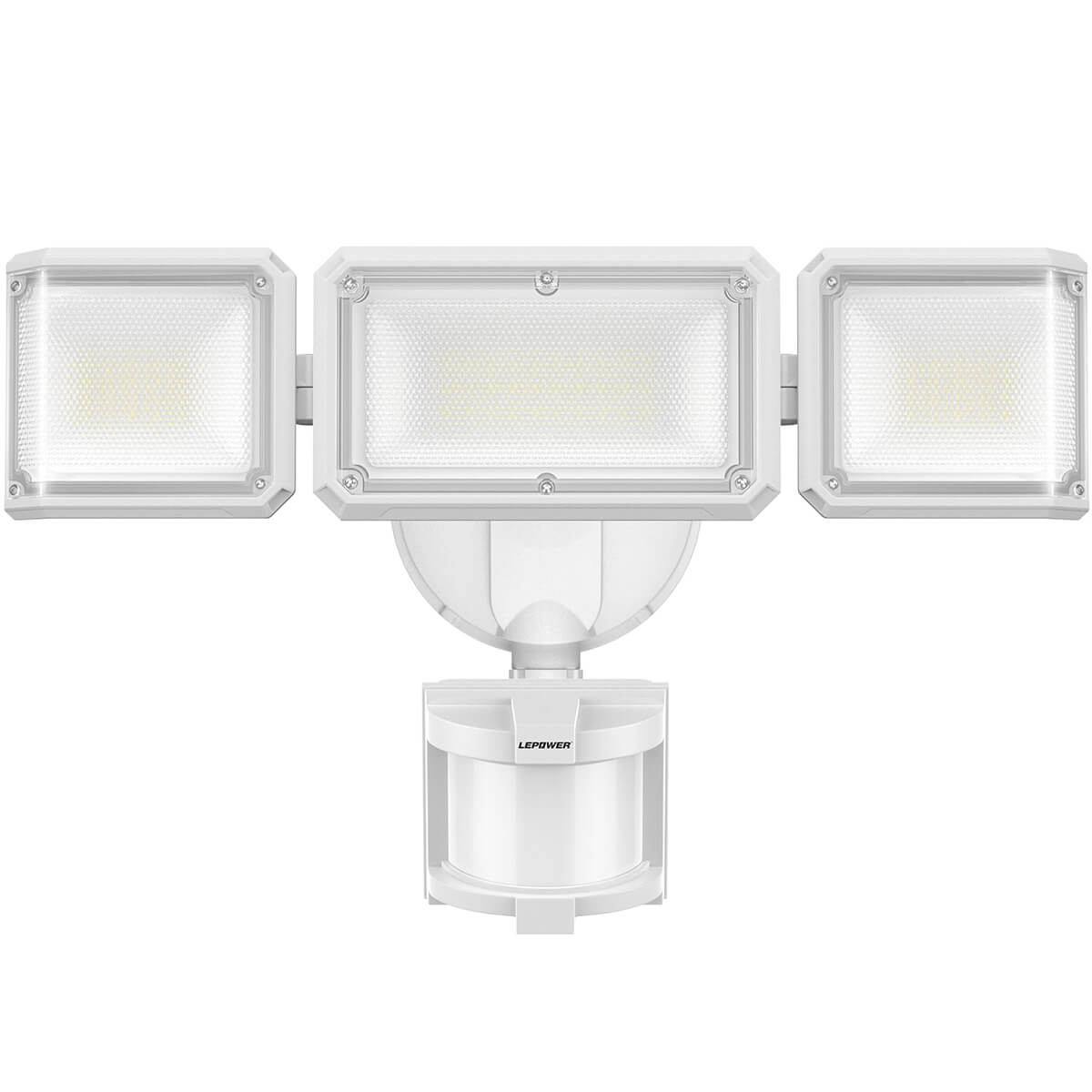 LEPOWER Dusk to Dawn LED Floodlightt can produce 4200 lumens at a low power of 42W. Not only It boasts 3 modes: auto, light, and dusk to dawn (D2D), and lights up a large area with a beam angle of 220°. The sensing distance can reach up to 72 feet at a 180° motion detection angle, keeping your home secure and convenient.
3 Optional Lighting Modes
LEPOWER D2D LED motion sensor light has 3 lighting modes to meet your different needs:
Auto Mode: Light up at night once outdoor motion lights are triggered by moving people, animals, and cars.
Dim Light Mode: Shine 700lm dim light at night when no motion is activated, fully lit 4200lm once motion is detected by the security light.
Dusk to Dawn(D2D) Mode: Turn on at dusk, and off at dawn automatically. It helps your life be free and convenient and saves energy.
Upgrade Lighting Head Design
The beam angle of motion flood light evolves to 220° from 180° by innovative folded surface lighting design on two side lights. And with 3 adjustable lighting heads, LEPOWER LED motion flood light can brighten up a vast area quickly, good for the porch, back yard, front door, garage, driveway, walkway, step, side of house, etc.
Adjustable Motion Distance/Lighting Time
The D2D motion sensor security light is highly sensitive to detect humans/animals/vehicles and responds quickly to it. The lighting time of the sensor floodlight can be adjusted from 0 to 10min(s), and the sensing distance can reach up to 72feet at a 180° detection angle, keeping your home secure and convenient.
IP65 Waterproof for Outdoor Use
Casted in die-cast aluminum, the motion security light has good heat dissipation, which is more durable.
Easy to Install Yourself
It is an easy 3-screw install, 3 wires powered up.
Package Includes:
1 x LEPOWER LED Motion Flood Light
1 x A Bag of Accessories
1 x User Manual
Specifications
Wattage: 42W
Lumens: 4200 lumens(whole light fixture)
Color Temperature: 5000K
Sensing Angle: 180°
Detection Distance: 0 to 72feet(adjustable)
Lighting Time: 0 to 10min(adjustable)
Lighting Area: 220°
Material: Aluminum(except motion sensor head)
Note
1, Recommended installation height: 7.2 feet to 14.8 feet
2, The operating voltage of the security light is 120V (110V-130V). If the incorrect voltage is used, internal parts may be damaged, which may cause security risks.
3, Recommend wall mounted installation, make sure the motion sensor face outside if you want a soffit mounted.
Lm4200 dim control
I wish I could reduce dim%. In some locations even dim is too bright. Great fixture!
Dusk To Dawn Flood Light with Motion Sensor & 3 Lighting Heads 42W 4200LM
Dusk to Dawn Flood Lights with motion sensor/3 lighting heads 42W 4200 LM
These lights are awesome! They are bright and light up to 150'. Perfect security lights.
Led power
Great product very well build
4200LM
Was looking for Dusk to Dawn low power(Dim mode) until motion detected then change to high power(Bright mode). Other lights had option but not the one I wanted. This one does exactly what I wanted. Well satisfied.